Child Sponsorship
WITH THE 25 PROJECT
We all need people in our life to root for us. As a child's sponsor with the 25 Project, you are part of a team of people cheering on a child who has very little support or resources. Your role as a sponsor is not merely a financial one – you serve as a friend and advocate. We encourage you to take this precious opportunity to be a conduit of Christ's personal love, grace, and encouragement to a child growing up in difficult circumstances.
As a sponsor, you can get to know the child you support by exchanging letters and sending care packages. You may also wish to meet them in person by joining us on a 25 Project Trip. The friendship and encouragement you give to a vulnerable child have been proven to make a tremendous difference in their confidence, academic success, and spiritual development.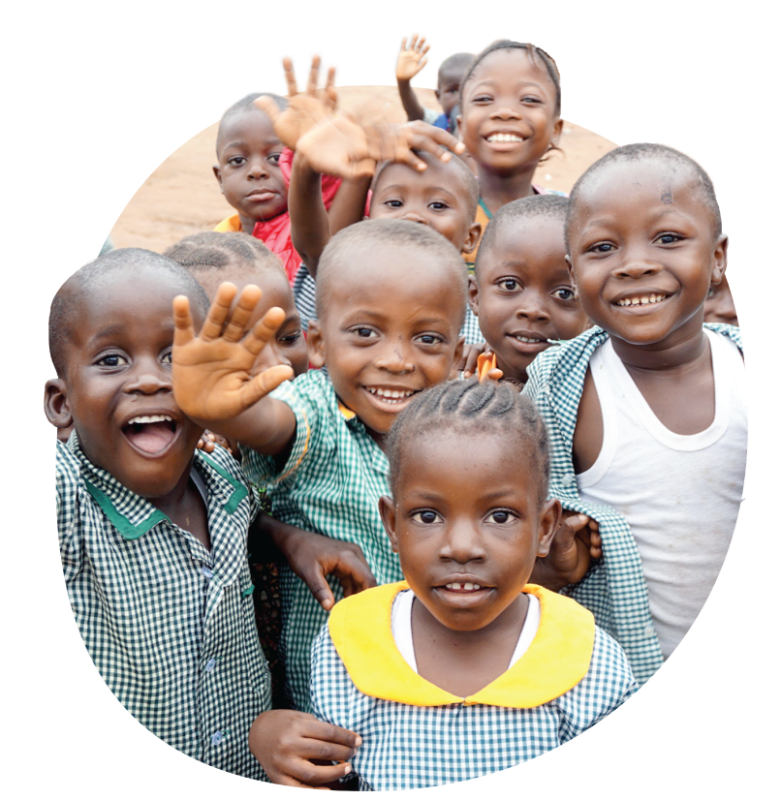 FAQS ABOUT SPONSORSHIP
Who is the 25 Project?

The 25 Project is a collaborative, multicultural community that comes together to worship Christ by serving the vulnerable. We seek to partner with the body of Christ to see thousands of vulnerable children's hearts and lives transformed by Jesus – that they would become messengers of His kingdom within their communities and to the world. The 25 Project's mission is to empower orphaned and vulnerable children around the world with the hope of the Gospel, the love of community, and the tools they need to grow and thrive. Currently we are serving vulnerable children in Sierra Leone, South Asia, South Africa, and the Dominican Republic. Locally we serve the most vulnerable through Melissa Community Outreach.
Who is an Orphan?

There are different types of orphans depending on their particular situation. Following is a description of the types of orphans:

Paternal Orphan: A child whose father has died.
Maternal Orphan: A child whose mother has died.
Double Orphan: A child whose parents have both died.
Social Orphan: A child who has been abandoned by family.
Who is a "Vulnerable Child"?

Vulnerable children are those children who live with family, but their family is not able to adequately provide for their basic needs.
Why does 25 Project serve internationally when so many children in the U.S. need help too?

Indeed, there are vulnerable children everywhere – many of which live right in our own communities. The 25 Project does partner in outreach and ministry efforts to local children and families through Melissa Community Outreach (25project.org/MCO).

However, the 25 Project has chosen to focus our ministry efforts internationally, as we find that children in developing countries are especially vulnerable due to the economic and political instability they and their families often face. In many of the countries where 25 Project serves, there are few thriving churches or widespread knowledge of the Gospel, making the need to bring the hope of Jesus to these children and communities all the more urgent.
What % of my sponsorship gift goes to ministry expenses?

The 25 Project is committed to maximizing all of the funds we receive from you to best serve each child in the ministry. For this reason, 100% of your sponsorship gifts go directly to the sponsorship ministry.

If you choose to use a credit card, debit card, or auto draft for your sponsorship gifts, a fee of 3% (for cards) or 1% (for check drafts) is charged to the sponsorship ministry. To offset this cost, you may choose to add an extra 1% or 3% to your monthly gifts or consider giving by check.
Are there requirements for children to participate In the sponsorship ministry?

The 25 Project and in-country ministry leaders create requirements for involvement in the sponsorship ministry. These requirements are created to ensure each child will be set up for long-term success.

Requirements are reviewed with each child and their family prior to entry into the ministry. Some requirements include: school attendance, 25 Project discipleship attendance, residing in the community in which we serve, etc.
What happens if the child or family does not meet the ministry requirements?

To reflect the grace given to us by Christ, 25 Project's in-country ministry leaders express grace upon grace to a child who is not meeting the requirements. If improvements are not made, the difficult decision is made to remove the child from the ministry. In this instance, sponsors are quickly informed.
What does the cost of sponsorship provide?

Our focus is to provide an opportunity for every child to grow in a life changing relationship with Jesus, while at the same time, providing holistic care for each child we serve. Providing for physical needs is of great importance, however, we are unashamedly a Gospel driven ministry, and as a result, Jesus is visible in every aspect.

Your tax-deductible gift provides a child the following:

The opportunity to know and be discipled to grow in a vibrant, transforming relationship with Jesus
Nutritious meals and clean drinking water
A place to live (when needed)
The opportunity for education (tuition, uniforms, school supplies)
Basic medical care

The benefits of the 25 Project Sponsorship Ministry are intended to meet both everyday needs as well as those needs that would be classified as critical. The assistance given varies according to the individual needs of each child.
What is the difference between a partial and a full sponsorship?

In order to make sponsorship affordable for the average family while still meeting the needs of vulnerable children worldwide, the 25 Project utilizes a tiered sponsorship system. Full sponsorship ($72/month*) provides for the entire cost associated with supporting a child in the ministry. Those who choose to sponsor a child at the full amount will be the sole sponsor of that child.

Partial sponsorship ($36/month*) provides for a portion of the total cost associated with supporting a child in the ministry. Those who choose to sponsor a child partially will be part of a team of sponsors supporting and encouraging that child.

*Full and partial sponsorship amounts may vary upon location.
Can I pay for a full year of sponsorship in advance?

Currently our system is setup for monthly sponsorship gifts. We do make exceptions in some instances for a sponsor to pay for a full year of sponsorship. Special circumstances must be discussed with the 25 Project accounting office.
What can I expect to receive?

When a child is sponsored, you will receive a sponsorship packet containing his or her picture, their profile, their country profile, a letter template, and an informational booklet specific to their country.

You can also expect frequent sponsorship emails with news and newsletters, including yearly child specific updates. Every year you will also receive an updated picture and 1-2 letters from the child you sponsor.
Can I send letters to the child I sponsor?

Yes! We encourage our sponsors to write to the child(ren) they sponsor. The 25 Project provides letter templates to write to the child you sponsor twice a year. The template provides uniformity in sponsorship communication. Letters will be delivered to your sponsored child when our 25 Project mission teams travel to that country.
Who should I contact if I have more questions?