We want to fully support each team member well when serving overseas, especially if it is your first time to travel overseas. Therefore we want to supply this fundraising guide to help you with your trip. Our goal is for each team member to feel comfortable and completely prepared for their trip.
When you apply for a trip team, you will have the ability to make your own fundraising web page. You can use a personal picture and description to tell all about yourself. You will see instant updates on your fundraising progress. As well, you can share your fundraiser on social media, email or texts. For more details, see Making Your Fundraising Page. Please note, donations made on AmazonSmile or Facebook, made to the 25 Project organization, cannot be designated to a trip member due to restrictions.
THE FOUNDATIONS OF FUNDRAISING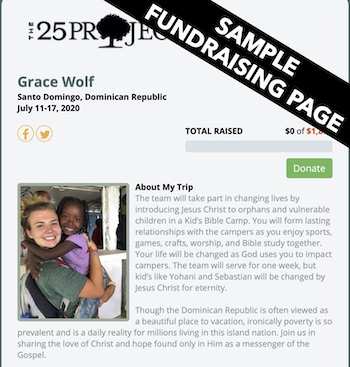 Foundation 1: Prayer
Some aspects of the Lord's work seem to require more prayer than others. Evangelism is probably one of these, as is fundraising. Perhaps more than any other single factor, prayer can be the key to raising funds. As Andrew Murray observed, "God's will needs prayer as its indispensable condition." In fundraising, it is necessary that we admit we need God and begin our prayers before Him. The Lord can work without us obviously but He desires that we ask Him. "Until now you have not asked for anything in my name. Ask and you will receive, and your joy will be complete" (John 16:24).
Daniel understood the principle that God's will needs prayer as its indispensable condition. Reading Jeremiah's prophecy (25:12), Daniel realized Jerusalem was to be desolate and the nation of Israel was to be in bondage for 70 years after which God would bring His people back to Jerusalem and to the Promised Land. Daniel also knew the 70 year period was completed. But instead of sitting back like a spectator at a ball game waiting to see the prophecy come true, Daniel began to pray. He prayed earnestly, fervently day after day – praying that the prophecy might become a reality.
Moses understood this principle. Exodus 17:11 says, "When Moses held up his hand, Israel prevailed. When he let down his hand, Amalek prevailed." Prayer made the difference. Jesus endorsed this principle when he taught His disciples to pray, "Thy kingdom come, thy will be done." Prayer gives God an opportunity to work in the hearts of those with whom you will be sharing. Proverbs 21:1 tells us "The king's heart is in the hand of the Lord; He directs it like a watercourse wherever He pleases." You should pray that God will lay it on people's hearts to give in response to your solicitation.
An important aspect of prayer is faith: faith that God has led you to be associated with 25 Project… faith that He has chosen you for this particular trip… faith in the fact that He desires you to make your needs known… and that He will provide your needs… and that He will provide you the time and energy to assume the responsibility He wants you to take. You can have the attitude of the people in Matthew 13:58, "And He did not do many works there because of their unbelief." Or you can have Sarah's attitude as it is described in Hebrews 11:11, "Through faith Sarah herself received strength to conceive seed and was delivered of a child when she was past age because she judged Him faithful who had promised it." Sarah believed God. She believed to think about the impossibilities of her physical limitations, and a miracle resulted. Sarah trusted God to do the impossible and He did it.
The question to ask yourself is "Am I really trusting God or is my mind preoccupied with possible problems and failure?" By an act of the will you can determine to trust God to make you effective in raising funds. You should pray that your own commitment to the task of personal fundraising will be wholehearted. If you secretly hope to ease yourself through this program, putting minimal effort into it when God has directed otherwise, you should reevaluate your commitment.
Foundation 2: Spiritual Preparation
The most important element in your success in raising support is your spiritual life. Set aside time everyday to get alone with the Lord. Spend time reading the Scriptures, praising God and claiming His promises.
God has promised to meet the needs of those that are called according to His purpose. He abundantly supplies, and He knows all of our needs (Philippians 4:18-19).
God promises that…

He will give you what it takes to develop your support team (1 Thessalonians 5:24).
He will guide and direct you (James 1:5).
He will give you a joyful time of raising support (John 15:10-11).
He will protect you from the enemy's lies, such as:
"You're a beggar."
"These people don't want to see me."
"I'm not good enough for Christian work" (Timothy 1:7).
He will not allow anything to happen to His children that is not for the best (Romans 8:28).
He will not fail or forsake you (Romans 8:35).
He will prepare hearts (Psalms 139:3-5).
SUPPORT TEAM WORKSHEET
Now is the time to brainstorm; you probably know more people than you think. Think of people that you have met or ministered to during the past year. Also, think of people you have gotten to know better or you feel might be interested in what you are doing. List as many prospects as you possibly can!
| Types of Contacts | Names Go Here |
| --- | --- |
| FORMER SUPPORTERS | |
| PEOPLE I HAVE MINISTERED TO OR HELPED IN THE PAST YEAR | |
| FRIENDS FROM CHURCH | |
| FRIENDS FROM SMALL GROUP/DISCIPLESHIP GROUP | |
| FAMILY & EXTENDED FAMILY MEMBERS | |
| PEOPLE I HAVE MET IN THE LAST YEAR | |
| FRIENDS FROM BACK HOME | |
| SPOUSE'S FRIENDS | |
| OTHERS | |
Sample worksheet to brainstorm contacts
LETTERS TO SUPPORT TEAM PROSPECTS
The purpose of letter writing is to help pave the way for you so that people are expecting your call and are introduced to your trip. Only as a last resort do you want to use an email, Facebook message, etc. as your initial communication to someone instead of a letter. Studies show printed letters work best to communicate. After you mail the letters (mail around 20 at a time) you should call the prospective contributors in seven days. Click here to download a sample Fundraiser Letter.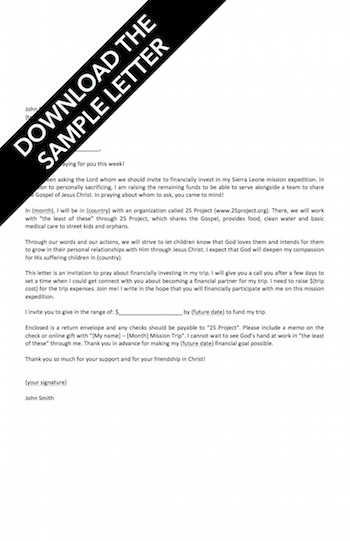 Suggested Content of a Letter to Someone You Know Personally:
Introduction: Begin with one good opening statement (i.e., family news, ask how they are doing, how school has been going, etc.). Make the letter warm and personal.
Presenting Your Ministry: You want to emphasize your call to this ministry and your excitement to be involved. Share about the specifics of the work in which you will be involved and the practical training you are receiving.
Present Your Need: Explain your need for financial support in order to be involved in God's ministry He has called you too. In your initial letter wait to include other important needs like prayer support, specific trip item needs, etc. But follow up later with those items of interest and involvement. Your letter should ask for one thing and state the trip cost so they can be a part of supporting you.
Range of Giving: Specifically give a range of giving for people to respond to. You should ask for individuals to give in the range of $100.00-1000.00, as the Lord leads them, to support your trip. If people can give less than your range, then they will simply be honored by your asking, and give what they are able.
Follow up Plans: Tell the person you are writing about any plans you have to call them or visit them to discuss your letter in person.
Closing: Finish your letter with an appreciation in advance for any donation they give.
Other Tips for Your Letters:
Write to individuals not groups: Mass mailings loose the personal touch and are ineffective for individuals.
Write simply and clearly: Vague details and muddled paragraphs can prevent a letter from communicating effectively. A well-written letter should be only one page at most.
Write positively: Negative attitudes or criticisms of other groups can defeat a person faster than any other problem. Strive to give your letter a pleasant, joyful tone (Phil. 4:4). You want your reader to be encouraged.
Write explicitly: Hidden messages are no good. Be bold! Communicate your message clearly with your trip cost and a range of giving they should consider. Say what you mean and mean what you say. They will know your trip costs money; share your need clearly and leave the rest in the Lord's hands.
Write personally: Personal letters say that the individual receiving the letter is important. They say fundraising is important enough to you to give special time for your efforts. Hand sign each form letter in blue ink and perhaps add a few personal handwritten lines at the bottom.
Have the letter reviewed: You can send your letter to 25 Project if you would like for it to be reviewed or need any other assistance. Ask for help; it is available.
To apply to be on a 25 Project Mission Team, simply complete and submit the application here. If you have any questions, please contact Stacy Gallimore, Trip Operations Assistant.